Meet Dr. Leslie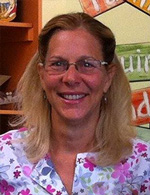 Special Message from Dr. Leslie
Introducing Dr. Andre Lewis, Pediatric Dentist
For twenty years my practice has been devoted to making a difference in the lives of children.  My staff and I appreciate each and every one of you for your continued trust throughout the years. You have allowed us all to feel part of your family and for that we are very grateful.
For all of us, however, life is filled with changes, and the time has come for a change in my life. This past February, after many years of being single, I married Tom, the love of my life. Tom is an avid outdoorsman and has introduced me to the love of long distance hiking. There is so much hiking for us to do, while we are still strong, able and healthy! So, after meeting Dr. Andre Lewis a year ago, and having many conversations with him, I knew that I had found the perfect person to carry on with the practice and your children's dental care.
Dr. Lewis is a Florida native, born and raised in Odessa. His passion for soccer gave him the opportunity to play for a Division I school in Virginia while obtaining his undergraduate degree in Biology from Radford University. His determination to become a dentist led him to Richmond where he graduated in 2007 from Virginia Commonwealth University.
After practicing in a Pediatric Dental office for two years he was accepted into Boston University Pediatric Dental program graduating as a specialist in 2011. For the last four years he has been practicing pediatric dentistry and has also been the Course Director of Pediatric Dentistry at the LECOM School of Dentistry in Lakewood Ranch.
He is a very personable, enthusiastic and caring person. We all feel that you will like and trust him immediately. I feel very fortunate to have found someone of Dr. Lewis's caliber to take over the practice and provide your children with the quality of dental care you've become accustomed to.
I also want to assure you that Linda, Heidi, Brooke, Angie and Jill are all remaining with the practice and will be here to help in any way. As you all are very well aware, they are the backbone of this practice. As a team, they have cared for you a total of 70 years! They will continue to support Dr. Lewis in providing the quality of dental care that you are accustomed to.
Dr. Lewis is assuming my practice as of August 21st and he is looking forward to meeting you and your family. Your dental records will be at the office for safekeeping, and for the eventual use of Dr. Lewis unless you direct us otherwise. If so, we ask you to notify us within 60 days.
This decision has been scary for me. I am excited and saddened at the same time.  I will miss being your dentist; it has been my purpose for 30 years.  However, now, I must challenge myself and experience new things.  I love you all; I know that you are in good hands and that you will LOVE Dr. Lewis.
MUCH LOVE FOREVER,
Dr. Leslie