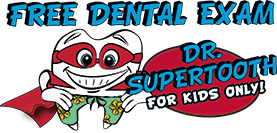 Dr. André L. Lewis

941-792-9392
1882 59th St. W.
Bradenton, FL 34209
Crowns
A crown is an artificial covering that fits over the existing tooth structure. We use aesthetic tooth-colored crowns for the front teeth that look and feel like the natural tooth and stainless steel crowns for the back teeth.
One indication for a crown is extensive decay that does not leave enough tooth structure to hold a filling, or after a baby root canal has been performed. It is also indicated when the enamel is defective on a tooth.
Procedure
First, the dentist will place a topical gel on the gum area where the injection site will be for the local anesthetic. If the patient is nervous, she may use nitrous oxide before anesthetizing the tooth. She will then remove any decay and shape the tooth to receive a crown. The crown must be thick enough to withstand chewing, which means that the natural tooth below the crown must be reduced. The crown is cemented into place, and the patient and parent are advised to avoid eating sticky and chewy candy or gums that could pull the crown off. If the crown does come off, be sure to save the crown and call the dentist immediately to recement the crown.