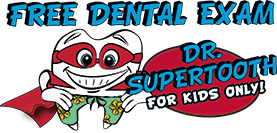 Dr. André L. Lewis

941-792-9392
1882 59th St. W.
Bradenton, FL 34209
Financial Arrangements
We are committed to providing your child with the best possible pediatric dental care. It is also our commitment to provide you with affordable dental care.

Unless prior arrangements are made, payment is expected on the day of service. We accept cash, checks and major credit cards (MasterCard, Visa, American Express & Discover). We also offer low interest and zero interest financing through CareCredit. We would be glad to discuss these options with you on your arrival.
We also offer payment options for larger dental treatment plans your child may require.
Dental Insurance
Our office is insurance friendly and we accept many PPO insurance plans. As a courtesy to you, we will file your insurance claim for you. Please realize, however, that you are still responsible for any payment your insurance company does not make.
We will be happy to go over your policy with you to determine what your portion (deductible and co-payment) will be so you can make it at the time of service. Any payment we receive from you that is also paid by the insurance company will be reimbursed to you.