Meet Dr. André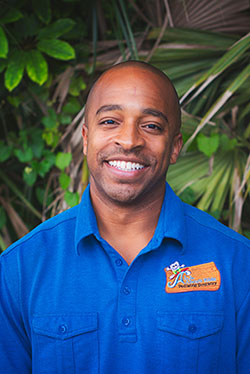 My name is Andre' L. Lewis, and I am so excited to be a member of your dental care team!! You may have heard a little about me, but my wife, Constance, and I decided to construct a message board which explains our background and interests. On the right is my educational progression and family, and on the left are some of my favorite teams, activities and superhero I enjoy during my free time.
Born to Jamaican parents, soccer was an integral part of my upbringing; and ultimately it became my passion. I was fortunate enough to play Division I soccer at Radford University, in Virginia, where, while pursuing my first love I met my second love... and then my priorities switched. Constance has been number one for over 10+ years of marriage and continues to be the most influential person my world. She is a Nurse Practitioner of Women's Health in Sarasota, but more importantly the mother of our children, Miles & Mariah. We used to have two furry family members who made it through our academic journey; and were both beagle mixes but are not unfortunately have passed away and will be waiting for us at the rainbow bridge. I know at one point we will add another pet to the family but as for now we have our hands full.
After college I finished dental school at Virginia Commonwealth University and then completed my pediatric residency at Boston University. Both fantastic cities, Richmond and Boston, should be on your "must visit" list.
Although educated out of Florida, I was raised in Tampa Bay, so my favorite NFL team will always be the Buccaneers. Lucky enough, my favorite soccer team, Manchester United, was bought by the same owners. Coincidence... I think not. As you can tell from the pictures, I try to stay active lifting heavy weights at Crossfit Sarasota or competing in any obstacle race under the sun. But, you might be wondering why I have a muscleman turkey on the board? I have always wanted a college football team to cheer for, however none of the colleges I attended had football. So, fortunately for me, my father in law is a retired professor of Virginia Tech - so I am an honorary Hokie!
And last, but definitely not least, I strive every day to be more and more like Batman. A hero that Bradenton needs, and deserves; saving little smiles everyday while fighting off evil tooth decay. I hope you will join me in this battle to clear southwest Florida of all cavities! #CariesFreeManatee
I can't wait to meet and learn all about you.
Truly grateful,
Dr.  Andre' L. Lewis